Favorite Links

Home... Introduction... My Interests... Circuit Simulation
Computational Physics


PSPICE:A free circuit simulator with limited capabilities for Windows-based computers.

Computational electromagnetics:A free finite-element program for Windows-based computers. However, the program also works satisfactorily under Linux using WINE. I expect to present more on computational-electromagnetics software in the future. David Meeker maintains an active mailing list.
Philosophy


This is a difficult subject, actually. Analytic philosophy has dominated the English-speaking world for over a century, yet it has so many shortcomings that I can hardly recommend it. At the present time I am reading Feyerabend's Against Method, in which he addresses the issues involved.
Web Authoring


Arachnophilia:A free HTML editor which facilitates hand-coding of Web pages.

HTML Tutorial:An online tutorial in the fundamentals of HTML coding. Brief but covers the most essential elements of Web authoring.

FTP Clients:Software for transferring Web pages to a host. One version WS_FTP lite, is free for non-commercial use, and meets the needs of most users (including my present needs); another, WS_FTP Pro, intended for commercial use, costs $39. A manual in PDF format can be downloaded from this site.
Cockatiels


This bird, "David," was born about 1978 or thereabouts, and lived for 24 years. This is a rather full life for a cockatiel, but by no means a record. He never was tame, but would bite people who attempted to approach him, and was solitary by nature. For some reason, however, his death in the summer of 2002 moved me more than I expected it to, and I resolved to get another cockatiel after his passing.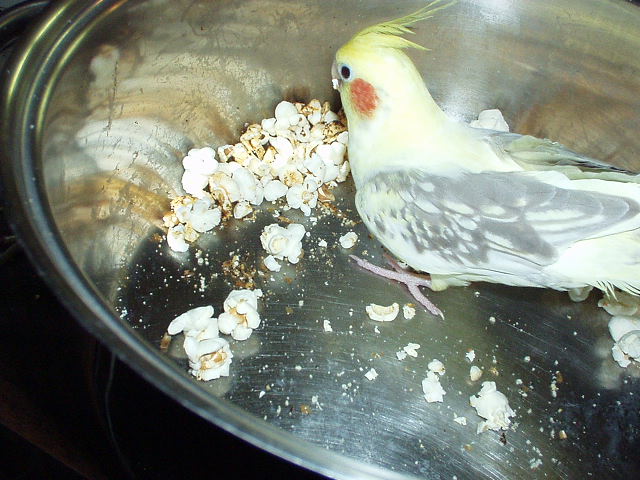 This pied cockatiel is usually called "Bowie." Handfed as a baby, it is very tame and loving, and enjoys human interaction very much. It was purchased in August 2002, and hopefully will also live to a ripe age.